Every week we at Samarth Community, conduct a short survey with seniors. Topics of the survey range from financial matters, to health and well-being. Based on the responses we get, we derive insights and share them with our community. If you also want to be part of this process, sign up here.
This past week, we asked seniors about traditional recipes that have been passed down through generations in their family, and given below are some of the responses that we got from them:
Traditional recipes in one's family often invoke joyful memories and experiences of the past. Food is a big part of our culture, tradition and identity. In this survey we got to know about our members' favourite traditional recipes, and responses have come in from all parts of the country: North, South, East and West!
4 in 5 (80%) seniors said that a traditional recipe, integral to their culture and tradition, has been passed down to them by their parents or family members. For example, Mr. George talked about his mother's recipes of traditional dishes from Kerala and Tamil Nadu – Sambar, Avial, Kerala style Fish Curry and how they are an integral part of his family's customs.
Samarth membership gives you access to discounts, programs and services.
Join Now >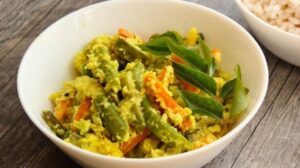 Avial is a favourite dish among a lot of our seniors who took the survey. It is a dish with origins in the Kerala, Tamil Nadu, and Udupi regions of India. It is a thick stew of usually 13 vegetables commonly found in the Western Ghats and coconut, seasoned with coconut oil and curry leaves. Mr. Mani remarked that it is a must in marriages and festivals, and also very kindly mentioned the most authentic recipe for it available online – check it out here
When we indulge in certain dishes, a lot of the times it invokes certain special memories. We asked seniors 'whenever you think about any traditional food item, what/who does it remind you of the most' and the most common answer we got was 'my beloved mother'.
We asked seniors about their favourite traditional recipes, and Rajeshwari Ahluwaliya from Pune talked about Chilly wheat Upama. For those who are interested, she also very kindly wrote down in a few short lines on how to prepare it, take a look:
Vegetable mater, green chilly,carrot,add any vegetables. For tadka: ajwien, til, curry leaves, hing.
Just fry vegetables, then fry wheat atta in ghee, jeera powder. If u want add red chilly. Mix atta with vegetables till Brown, then mix curd or lassi,water to cook. Garnish with green coriander and mint leaves. Items may be changed as per taste.
 In some families, recipes have been passed on from generation to generation over the years, making them a prized family heirloom, so when we asked seniors if they intend to pass any special traditional recipes to the younger generation in their family, unsurprisingly, 2 out of 3 seniors said that they would. however 33% also revealed an indifference to the issue, saying it does not really matter to them