Every week we at Samarth Community, conduct a short survey with seniors. Topics of the survey range from financial matters, to health and well-being. Based on the responses we get, we derive insights and share them with our community. If you also want to be part of this process, sign up here.
Last week, on the upcoming occasion of India's 76th Independence Day, we asked seniors about their memories and thoughts of both the past 75 years and also the future, here are some of the responses plus insights we gathered:
We asked seniors which great leader were they most inspired by in their childhood, and a large number of seniors (73%) revealed Netaji Subhash Chandra Bose to be that figure. Shaheed Bhagat Singh and Sardar Vallabhbhai Patel were also among the most popular names in the responses, along with Rani Lakshmi Bai.
It is a known fact that millions were displaced from their homes during partition and forced to relocate elsewhere, so it's no surprise that when we asked respondents if they would you like to visit the homes they stayed in before partition, majority(55%) reported that they did. Interestingly, 16% seniors also said they had no desire to do so. It is also heartening to see that approximately 1 in 4 seniors(27%) have been able to stay in touch with their neighbours/friends from before the partition.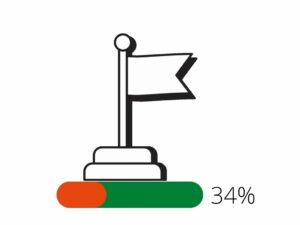 Samarth membership gives you access to discounts, programs and services.
Join Now >
About 1 in 3 (34%) seniors' first memory of celebrating Independence day was hoisting the tricolor at their home or neighbourhood. Other popular answers were: watching the Prime Minister's speech on television, flying kites and also loudly singing the national anthem in a group.
We have all read and heard about stories of exemplary displays of courage by freedom fighters and activist, and one such incident was shared by one of our members: "My Father was a freedom activist and once he was caught by a British Seargent while his other friends ran away. Seargent asked where his friends were by piercing a sharp weapon in the left wrist of my father. My father did not give anyone's name even though blood came out his wrist. Then he ran away by giving a heavy jerk to the Seargent and came home."
We asked seniors if they would like to share experiences of brotherhood they experienced during partition, and these are some of the responses we got:
During the riots &after neighborhood village Muslim family members left the house open for us for use their grains & with their cattle free for use. A terrific recollection.
My father sheltered 2 Muslim people in our house during riot and handed over them to Kolkata Police for safe passage.
During the Azadi movement, my grand mother and my father were travelling in a taxi in the Kalbadevi area of Bombay and the driver was from other community who told my father, if I want I can kill both of you to scare them but almighty poured good wisdom to him and he took them to their destination, safely.
We asked our community what changes they would like to see in the country in the next 25 years, and these are some of the responses we got:
There should be abundance the way we lived the golden years of India 2 centuries ago. We need to have abundant food, clothing and shelter for each Indian.
Harder and effective measures to deal with corruption at all levels and elect good educated to run the country at administrative, judiciary and executive, most important the selfless and honourable politicians.
A communal harmony along with political stability coupled with all round economic development to achieve swarnim Bharat.
Let us all feel as Indians first. We, as Indians, should take the responsibility and stand united so that we, as a big family, flourish and develop/reach greater heights in achievement. To achieve this, there should be no divisive forces among us. In the true sense and spirit, every citizen should be treated as Equal to one another as per our Constitution. We should elect good dedicated committed people to the local bodies, State Assemblies and to the Parliament. . Education and Health care should be free and accessible to the poor masses and senior citizens all over India. These are my humble suggestions for changes in our country.