Every week we at Samarth Community, conduct a short survey with seniors. Topics of the survey range from financial matters, to health and well-being. Based on the responses we get, we derive insights and share them with our community. If you also want to be part of this process, sign up here.
Last week we asked about seniors about their fantasies and fears centred around their retired life, and these are some of the insights we gathered from their responses:
When we asked seniors about what would be one word they would use to describe their life as a whole, and only 11% chose words with a negative meaning. The most common word used to describe seniors' life was 'accomplished', followed by challenging and peaceful.
We asked seniors what got them most excited about their day, and we received quite a few interesting responses. A little more than 1 in 3 seniors (36%) said they enjoy 'me time' the most during the day! It is a common perception that seniors need company and social engagement for a variety of reasons, but the importance of solitude and a bit of time out of the day completely to yourself is often understated. 
Quite naturally, we saw that one third of seniors look forward to their spiritual workouts the most, and the same number of respondents also look forward to their morning/evening walks as well. Interestingly, 13% seniors also said they look forward to time spent on social media during the day, further highlighting the role that social networking sites play these days in keeping us engaged!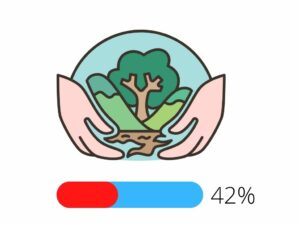 Samarth membership gives you access to discounts, programs and services.
Join Now >
42% of respondents said that if given a chance, to go back in time, they would retire and relocate somewhere close to nature. Interestingly, 10% seniors said that if given a chance to relive their lives, they would choose to work in a less stressful job/industry! 
When asked about what kind of job/work they would like to do ideally even after retirement, an overwhelming majority of seniors(68%) said they would either like to train or impart skills to others, or do something which can help in the upliftment of others! Working for a social cause is a major theme in the responses that we got from seniors. 30% seniors said they would like to engage in something creative or artistic work.
 Retiring from all responsibilities in life is a thought which comes across the minds of many people, and when we sked this question to seniors, 63% said absolutely not, they do not fantasize about this at all! Probed further, 38% respondents said that letting go of all responsibilities of life is most suitable after the age of 80! 
We asked seniors if they would like to share an incident in their life in which their fantasy got fulfilled, and these are a couple of responses we got:
Eons ago i attended a musical show wherein i wanted to participate but was disallowed (maybe they were in awe with me or some other reason) so i hatched a plan.i bought biscuits and tea for all the musicians and a large cup of coffee for the band-leader….zwat !!!! I was their friend for life any i sang maybe two or three songs while adding a commentary before each of them.i am still doing the same and enjoying my passion for singing and entertaining.the coins are coming few and far in between,but i have no complaints' wish everyone a rich and fulfilling life with no remorse of the past gone by. god bless each and every one of you.
Heart Attack at 1am, in CCU at 3.30am after angioplasty, everything worked in Auto mode, still a fantasy.
We asked seniors what is that one thing that greatly works for them when it comes to handling their fears, and these are some of the responses we got:
All my life, I have believed in the absolute truth, being simple and good to everyone and having good wishes for everyone, irrespective of their behaviour.
Practice spiritual reading, do yog meditation and walk for 40 minutes at least 5 days per week
I TAKE LIFE AND IT'S TRIVIALITIES A PINCH OF JAGGERY.मै जिंदगी का साथ निभाता चला गया,हर फ़िक्र को धुनें मे उठाता चला गया।