Every week we at Samarth Community, conduct a short survey with seniors. Topics of the survey range from financial matters, to health and well-being. Based on the responses we get, we derive insights and share them with our community. If you also want to be part of this process, sign up here.
Last week we asked seniors about their food habits and pattern, and these are some of the insights we gathered from the responses:
Beverages seem to be a morning choice for a lot of seniors. 80% seniors marked the morning time as their most common time to have tea/coffee, which is also the case for fruit juices as well.
Rice is the most common lunch option for seniors, with 72% reporting the same. Interestingly and perhaps expectedly, chappatis enjoy similar popularity among seniors as a lunch, and dinner option. 
Samarth membership gives you access to discounts, programs and services.
Join Now >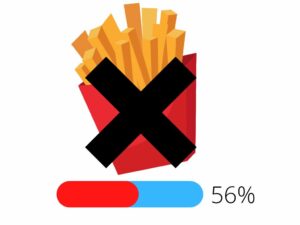 56% of respondents said that their appetite for fried and junk food has significantly decresed over the last 5 years, which is perhaps a reason why only 16% seniors reported that they liked fried preparations in food options. In fact, slow cooked (54%) and steamed (44%) are the two most popular choices when seniors were asked about how they like their food to be cooked.
Over half of the respondents (53%) said that they enjoy eating out occasionally in a month, while 39% said that they rarely ever do. Interestingly, in a survey conducted in the USA, the results showed that American seniors are more likely to eat out compared to their younger and middle-aged counterparts.
A Canadian study revealed that over 75% seniors wished their family had more meals together. There are numerous health benefits of eating together as seniors. In our survey, over 60% of seniors said that they have at least one meal with their family daily!
1 in 2 seniors said that their intake of immunity booting food such as turmeric, nuts has increased over the last 5 years. 
A significant number of seniors (51%) have also reported that the probability of them skipping one of the main meals of the day has increased in the last couple of years. Loss of appetite is common after the age of 60, but skipping meals is not a good idea for numerous health reasons. Doctors advise to have a hearty breakfast, as the morning is when one's appetite is the largest, and then have smaller meals throughout the day. 
We also asked seniors if they would like to share some of their food habits with fellow seniors, and these are some of the responses we got:
To keep oneself healthy and happy. A lifestyle of satvik food and simple living and disciplined and high thinking is important. There is a famous quotation ' Jaisa anh vaisa manh, jaisa paani vaisi vaani'.
Pure vegetarian food. More vegetables than grains. More fruits portion. Nuts included as snack. Early dinner around 7.30 pm. All food almost at the same time daily.
It's advisable to always sip water like you are taking hot tea, never gulp water and sit down, while sipping water. This is the best remedy to avoid acidity and joint pains.
Don't skip the breakfast. Eat more vegetables. Avoid all white goods like maida buiscuit