Every week we at Samarth Community, conduct a short survey with seniors. Topics of the survey range from financial matters, to health and well-being. Based on the responses we get, we derive insights and share them with our community. If you also want to be part of this process, sign up here.
Last week we asked about seniors about the quality of their sleep, and these are some of the insights we gathered from the responses:
1 in 3 seniors told us that they are not able to sleep well. Among those, 44% seniors said they face moderate to severe sleep issues, which is not a surprise, as people over the age of 60 are more susceptible to developing sleep issues like insomnia and sleep apnea.
 Interestingly, 17% of seniors have said they are on some form of sleep medication. That is lower than the number of seniors in the USA who take something to help them sleep(33%). Doctors and experts frequently warn against taking un-prescribed medication for sleep issues, as it is very likely to cause adverse effects, 
Samarth membership gives you access to discounts, programs and services.
Join Now >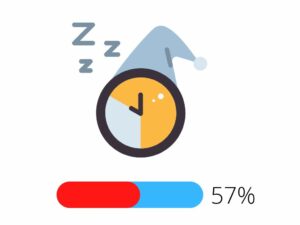 A significant majority of seniors(57%) reported that they get 5-7 hours sleep every night. Contrary to popular opinion, older people don't need less sleep than the average person. According to experts, 7-9 hours of sleep is needed for healthy aging. 1 in 4 seniors reported that they get only 3-5 hours of sleep every night.
When one cannot sleep at night, different people tend to do different things. We asked seniors about what they do if they are unable to fall asleep, and the most overwhelming response that we got was they just lay still in bed (42%). Other interesting responses were – 10% seniors like to meditate, and an equal number of seniors like to listen chants/recite mantras. Interestingly, a small number of seniors also like to concentrate on their breathing, or do mental counting. 
Almost half of the respondents (49%) said that it usually takes them just a few minutes to get back to sleep if they wake up in the middle of the night. However, 25% seniors said that it usually takes them more than an hour to get back to sleep if their sleep is interrupted. Waking up many times at night and taking a long time to fall asleep may be indicative of insomnia, which affects almost half of adults aged 60 and above. 
We asked seniors if there was something that works for them to sleep well, and these are some of the responses we received:
Normally goes to sleep after brushing my teeth and removing all nose blocks and flum from the throat. Drink a glass of warm water. Prayers for 2 mts in the bed, thanking for the day pray for a similar next day. Food early around 7.30 and that too light enables me to sleep by 9.30.
Do anulom Vilom for3-4 mins
Chanting om mantra & bhamri pranayam
Having your dinner atleast two hours before sleeping and a brisk walk for atleast 30 mnts before sleeping. Also, calming your mind from any troubled engagements of the day is important, a short meditation helps.
I massage my feet myself also giving pressure points with little oil. It is relaxing for me