Every week we at Samarth Community, conduct a short survey with seniors. Topics of the survey range from financial matters, to health and well-being. Based on the responses we get, we derive insights and share them with our community. If you also want to be part of this process, sign up here.
Last week we asked seniors about their hearing health, and these are some of the insights we gathered from the responses:
Almost 43% of seniors said that they are able to hear absolutely fine without the use of any external aid, while 51% said that they experience some degree of hearing loss. This is comparable to seniors living in the USA, where it is reported that nearly half of those older than 75 report some loss in hearing. 
We received results of a few seniors mentioning that although they have not experienced any hearing loss, they do experience a slight ringing in their ears. This is a common symptom of Tinnitus, a condition which is quite common among older adults, as up to 50% of seniors saying that they suffered from it.
Samarth membership gives you access to discounts, programs and services.
Join Now >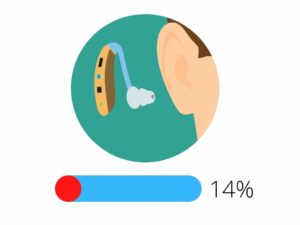 Although 51% seniors reported some degree of hearing loss, with 35% of them experiencing moderate to severe hearing loss, only 14% respondents said that they wear hearing aids. This appears to be a common trend worldwide, as according to a study, even in Western countries, only 1 in 4 people with hearing loss own a hearing aids. The high costs associated with it and difficulty in adjusting to wearing hearing aids are two common reasons as to why this is the case. 
Among those seniors who do use hearing aids, usage of battery operated hearing aids were the most common. It is also interesting to note that 15% of those who do use hearing aids, still have difficulty in hearing things clearly. 
A significant number of seniors(74%) reported that they have to strain themselves to listen, and an even higher percentage of seniors(78%) have to almost always ask people to repeat what they said, while having a conversation. 
We asked seniors if they would like to share some tips regarding choosing the right kind of hearing aids, and here are a couple of the response we got:
I am using widex real 19 model for the last ten years without change. It is the best for me because hearing with this model is comfortable. Price aspect is within reach.
Yes try different machines and companies, find the best suitable to you.
We also asked seniors what they would like to suggest to other seniors to help them cope with hearing issues that they might experience with increasing age, and these are the responses we got:
Do not hesitate to tell people to come near your ears and express themselves if you are not comfortable with hearing aids experience of an audiologist say as maximum seniors do not enjoy hg aids even if latest technology.
Carry a notebook and pen and request people to write what they are saying. And believe me people oblige.
Get regular audio metrics testing done.
Don't expose yourself to high decibel sound source for long-term.