Every week we at Samarth Community, conduct a short survey with seniors. Topics of the survey range from financial matters, to health and well-being. Based on the responses we get, we derive insights and share them with our community. If you also want to be part of this process, sign up here.
This past week, we asked seniors about what Diwali means to them, and their memories of celebrating the festival of lights, and given below are some of the responses that we got from them:
India is a diverse land with many beliefs, but arguably the most popular festival in the country is Deepawali. This sentiment was also echoed by 3 out of 4 seniors (76%) who took our survey when they were asked about their favourite festival.
For the majority of respondents, the first thing that comes to their mind when asked what Diwali means to them, is a festival of joy, happiness, love and togetherness. For some, it also means decorations and making their houses beautiful, while a very small number(9%) of seniors said that pujas and rituals come to their mind when asked about Diwali.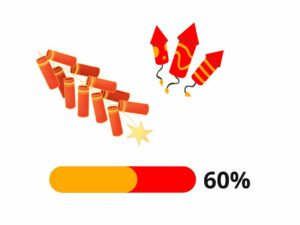 Samarth membership gives you access to discounts, programs and services.
Join Now >
We asked seniors what are some things they don't like about Diwali, and a significant number of seniors(60%) answered 'the high level of pollution that happens after the bursting of crackers'. While noise and air pollution due to the excessive bursting of crackers was an expected answer, 5% of seniors revealed that 'too many exchanges of gifts' is something they dislike about the festival as well!
Diwali, and festivals in general, are more fun and special for kids, so we asked seniors about one thing they absolutely loved about Diwali when they were kids, and Mrs.Chetna said 'Dressing up and visiting family and friends and gorging on sweets', while Dr. Ajit Goyal also agreed that gorging on sweets was the best part. We seem to detect a theme there!
We asked seniors if they had an special memory they would like to share with us about Diwali from their childhood, and we received many endearing responses! Mrs. Abha Gupta shared, "Yes..we all children with our elders used to go to Govt Boys School..at Bijnor..for enjoying a great show of different aatishbaaji and many paper lanterns with light..going to the SKY..in 1965 it was an Ajooba for us". Dr. Nandita shared a hilarious anecdote from her childhood – "My father would ask us to study and we would hide our books!".
There was another hilarious story from a member, Mr.Murali, that we felt compelled to share –  " We used to ignite arrows with longer handle by keeping them in a big bottle. Once, while doing so, the bottle containing arrows, felled and became horizontal. But, by that time it was ignited, instead of flying up, it went horizontally along the road. We were worried that some vehicle may come across it, but as the traffic was less, we were relieved. But suddenly, by that time one buggy (horse-carriage with two horses) came before the arrow and as it went in their front legs, both the horses stood on the rear legs and the driver fell down. We were puzzled whether to laugh or to help the driver!
Many seniors will spend Diwali alone, due to one reason or the other and we asked seniors within our community about if they would share any suggestion with them, and these are a few of the responses we got:
 Become part of a community like Samarth, do ask for help and company when you need it. Being alone can become a habit and you lose your social skills. (We swear we did not ask the kind member to say this!)
Me and my husband buy toys balloons sweets chocolates….ang visit to children home and drishti baadhit with very special powers…and got lots of power and happiness from them. Also many times visit senior citizens home with food sweets and saaris fruits..some mosquito nets…kurta pajama ..etc and return with full satisfaction.. their Aashirvaad and happiness
Be happy and pray almighty to give strength and happy and pray God those partise should get any manner of discomfort while playing with CRACKERS. I WISH ALL THE SENIORS AND SUPER SENIORS A VERY VERY HAPPY DEEPAVALI.
Get together with like minded people and share your festivities with people your age.