Every week we at Samarth Community, conduct a short survey with seniors. Topics of the survey range from financial matters, to health and well-being. Based on the responses we get, we derive insights and share them with our community. If you also want to be part of this process, sign up here.
This past week we asked seniors about their general level of preparedness in the face of disasters like earthquakes, floods etc, and based on their responses here are some of the insights we gathered:
We see that almost all of our respondents have never been majorly affected by any natural disaster, despite living in low to moderate risk prone zones.
Fire because of a gas leakage is what makes seniors concerned the most, even more than earthquakes and floods, and this fear is not unfounded. According to the National Fire Protection Association, USA, at the age of 65, people are twice as likely to be killed or injured by fires compared to the population at large, therefore knowing what to do in the event of a fire is particularly important for older adults.
Samarth membership gives you access to discounts, programs and services.
Join Now >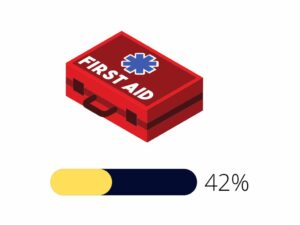 Around 42% of seniors said that they have prepared a basic kit of first aid supplies ready for whenever there is an emergency. In such scenarios, it is important to plan ahead, and having a basic first aid kit can be handy in other situations as well, so it is always advisable to have one kept at an easily accessible location.
We asked seniors if in case an earthquake, if they are already indoors, do they stay indoors, and only a small minority of seniors(28%) said that they did. It is stated in the disaster survival guide (by the National Disaster Management Authority) that during an earthquake, if a person is outdoors they should stay outside, and if they are indoors, they should stay inside.
Only 14% of respondents said that they have prepared a bag with essential items ready, in case of any natural disaster. So we asked those who haven't about what items they would include in their emergency bags, and these are some of the responses we got:
 90% of seniors said they would keep a first aid kit with necessary medications included. This is extremely important and experts advise  a 3-6 day supply of medications to be kept in the bag, not only for yourself but also any medication your spouse or any other person you are currently caring for.
Over 80% of seniors were of the opinion that cash and mobile phones( along with their chargers) are necessary to include in the bag. It is also advisable to include a  list of health problems and related conditions you and those you care for may have, along with the names, phone numbers, and specialties of the doctors who provide the care.
Water, canned food, swiss army knives are other popular items that seniors have said that they would include in their emergency bag.
We asked our community what is one thing that they think might help in better preparation or mitigation in the face of a natural disaster, and these are some of the responses that we got:
Common meeting held to discuss all such issues at regular intervals
Try to call for help. Never keep all Windows closed.
Keep your self and family ready to exit to safer place without loosing time
Keep in touch with neighbors