Every week we at Samarth Community, conduct a short survey with seniors. Topics of the survey range from financial matters, to health and well-being. Based on the responses we get, we derive insights and share them with our community. If you also want to be part of this process, sign up here.
Last week we asked seniors about their views on spirituality, these are some of the insights we gathered from the responses:
The general perception is that as people age, they tend to get less materialistic, and more spiritual. We asked seniors if they considered spirituality to be an important part of their well-being, and a whopping 65% considered it be utmost important, while only 3% said it was of least importance to them.
An overwhelming majority(72%) of seniors believe that practicing spirituality has enhanced their lives.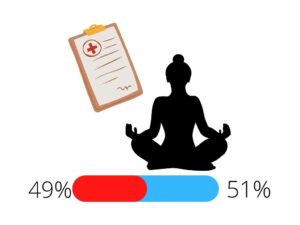 Samarth membership gives you access to discounts, programs and services.
Join Now >
What role spirituality plays in health care is an oft debated topic. We posed the same question to our seniors and the response we got was split down the middle. 49% seniors agreed that spirituality has nothing to do with patient care, while 51% disagreed, remarking that it played an important part in patient care and recovery. 
Our respondents were of the firm view that spirituality and religion were two separate domains, different from each other, as 81% of them were of this view. There were however 19% seniors, who believe that there is not much difference between the two. 
Praying everyday(68%), meditating regularly(54%) and practicing mindfulness(47%) are the three most popular methods of practicing spirituality, among seniors. Apart from these three, 72% of seniors also said that expressing gratitude for what they have is another way in which they feel more at peace with themselves.
It is widely acknowledged that there are numerous benefits to being spiritual in nature, and some of the more prominent changes that seniors said they experienced while practicing spirituality is that (1) they are able to accept situations more easily, (2) their physical and mental health has improved and, (3) they have more control over not only their actions, but also reactions. 
We asked seniors what are some things which they dislike about spirituality itself, or things related to it, here are a couple of the response we got:
Too much loose talk and self styled gurus!
It distracts us from the problem but doesn't give solution
Spirituality is an umbrella term, with there being many practices to achieve the same result. We asked seniors what practice did they benefit the most from, and these are a few of the responses we got:
Rajyoga taught by the Brahmakumaris. The basic principle of Rajyoga is Purity, Love and Peace. Rajyoga teaches you to be in the awareness of Soul Consciousness. 
My talk with my Waheguruji I pour my heart out and ask for wisdom to deal with the ongoing issues and I have achieved a lot
Going to Satsang daily and doing volunteer service there calms my mind and tires my body so I can sleep better
Meditation, pranayama, reciting of mantras, slokas and reading spiritual books